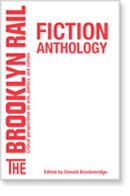 Speaking of Brian Evenson, he's one of the contributors to what looks to be a terrific anthology edited by Donald Breckenridge, which has just come out from Hanging Loose Press, The Brooklyn Rail Fiction Anthology.
Breckenridge has been running a very strong reading series in Brooklyn for at least three years I've been aware of; plus, as Fiction Editor at Brooklyn Rail since 2002 he's made over what might be just another alternative arts weekly into one of the most interesting venues in the country to read new work by and about innovative fiction writers. Says Breckenridge in the introduction: "As a self-taught writer and ardent reader of formally experimental fiction, my goal as the Rail Fiction Editor has always been to highlight the talents of emerging writers, many of whom live in Brooklyn, as well as to showcase the current writing of established authors who have been marginalized by an increasingly risk-averse, profit-driven publishing industry."
The 432 page Anthology succeeds in its mixture of established and emerging writers, and is as good as any anthology available in marking the territory of new fiction.
List of contributors: Diane Williams, Brian Evenson, Caila Rossi, Lynda Schor, Sharon Mesmer, Susan Daitch, Jill Magi, Leslie Scalapino, Douglas Glover, Jonathan Baumbach, Jacques Roubaud (Translated by Guy Bennett), John Yau, Kenneth Bernard, Michael Martone, Barbara Henning, Lewis Warsh, Bart Cameron, Aaron Zimmerman , Jim Feast, Will Fleming, Evan Harris, Blake Radcliffe, Meredith Brosnan, Pat MacEnulty, Martha King, Carmen Firan (Translated by Dorin Motz), Elizabeth Reddin, Jeremy Sigler, Constanza Jaramillo Cathcart, Marie Carter, Lynn Crawford, Johannah Rodgers, Robert Pinget (Translated by Barbara Wright), Jean Fremon (Translated by Brian Evenson), Doug Nufer, R.M. Berry, Albert Mobilio, John Reed , Thomas D'Adamo, and Kurt Strahm.